Volunteer Opportunities:

Second Fridays – Food Distribution at Millwood Presbyterian Church 3223 N Marguerite Rd, Spokane Valley
Contact Gary Harris 509-926-8683

Sunday Lunch – St Ann's Catholic Church
Contact Spike Cunningham 509-290-3666

Kevin's Kritters dog and cat food distribution
Valley Partners, 10814 E Broadway
Every Wednesday 11AM to 1 or 1:30PM to 3PM or Thursday 11AM-1PM
​Bagging Thursday 9 a.m.
Contact Larry Barringer, 509-230-9350

Book Bank – Old University High School, book sorting
Contact Mallory Thomas 509-954-0823 or
Mike Frucci, 509-324-6020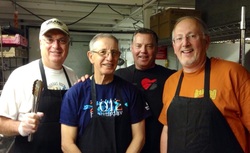 A "Fair" bunch of guys: Bob, Michael, Mark and Gary.

Every year in September our Michael Fernandez (2nd from left) organizes us to work at the Longhorn Barbeque Booth for the Spokane County Fair as a fund raiser for our club. It's a lot of work and we make it fun to help the hours pass.





---